Don't question my status

Kiriban at 77,777
Prizes: Couple sticker and a fully coloured halfbody w/simple background.
----------
Note me with the screen shot please do not use multiple accounts just your main. please do not cheat in any way shape or form also include the time/date on your screenshot example > sta.sh/02e7eg8wxjmn
PS: I'd rather you not post it outside Da rather in your scraps or stash thanks







Taken by LordDreadRaven as of 27/3/12
March 27th 2012
Member of da since 12/9/11
September 12th 2011


Only watch me if you like my art please <3

DO NOT WATCH ME FOR POINTS I MEAN IT DX

PLEASE READ MY F&Q BEFORE YOU COMMENT

Livestream

FAQFeel free to ask me anything.. btw here's my other FAQ

</b></font>
my no longer used Donate account

---

5,814 Badges sent, 4,449 Badges received


Need 551 for spartan Llama 0-0

(Llama stats updated on 9/5/14 )
Note: It only says 5,643 given on my badges because I gave myself and my bf cake badge so yeah I've actually given 5,641 Llamas )
</b>
---
---
Look through My gallery

Watch Me if you Like my art

Note Me if you have anything you would Like to ask

Also you may donate for a future birthday c:
---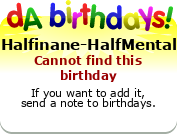 Note: To get one of these badges just note birthdays with your birthday.. and they will add it to the birthday list and give you a code for your very own badge now don't bother asking me again
---
=
I'm Saving up my points to commission some awesome people and To be honest with you I Rarely earn points with commissions since people
hardly
commission me
I
worked really hard for Months/days to earn my points yes
earn
so don't come begging/noting me asking for points or anything because
I
will
not give
you .
anything
okay. please don't let my balance put you off of donating any points to me It's true I earned the points myself so yeah

Actual Balance 193







-----------------------
want to be featured here?
1

Featured for a day + Llama
10-30

featured for a week (1 art featured) + Llama
40-50

featured for a month (2 arts featured) + Llama
100-300

featured until I reach 90,000 pageviews (3 arts featured) + Llama
1000+

Featured for 2 years (3 arts featured) + Llama.
(Note: If you wish to be featured please say so in your donation ne)